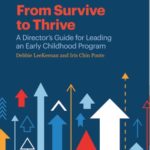 Debbie's book, From Survive to Thrive, A Director's Guide for Leading an Early Childhood Program, co-authored with Iris Chin Ponte, is a resource for directors and administrators of early childhood programs serving children from birth to age 5. The topics, frameworks, and strategies covered create a foundation for those new to the role, but directors at all levels of experience and serving in a variety of settings will find the information useful. This book takes many of the ideas first introduced in Leading Anti-Bias Early Childhood Programs: A Guide for Change and applies them more broadly to the role of the program director.
Resources
Webinar: On Tuesday, December 4, 2018, NAEYC held a webinar with Debbie and Iris, Facilitated Leadership and Family Engagement — Learning with and from Families, to explore why engaging families in their children's education through facilitated leadership is critical to the success of each child and the program as well as to provide practical tips for how to welcome and involve all families.
Q&A Discussion: Debbie and Iris answer questions submitted by NAEYC members about the challenges of being a leader in an ECE setting.
Chapter Discussions: The Leadership Initiative of New York Early Childhood Professional Development Institute hosted a series of webinars based on each chapter of Debbie and Iris's book, From Survive to Thrive.
Reviews
Not since Paula Jorde Bloom's work on quality leadership for directors have I seen a resource so thorough. From Survive to Thrive is an essential guide for any current or aspiring director to use in actively preparing for and successfully navigating the many aspects of leadership in early childhood education. College professors teaching ECE administration will find this an invaluable book for teaching others how to become effective leaders.
—Linda S. Anderson, Adjunct Professor, Aurora University and Rasmussen College
This accessible book provides early childhood program leaders with a helpful structure for their complex roles and a valuable array of resources to make intentional, thoughtful decisions every day.
—Robyn Brookshire, Director, Early Learning Center for Research and Practice, University of Tennessee, Knoxville
LeeKeenan and Ponte remind early childhood education leaders that we have the best job in the world! We are engineers, conductors, participants in play. We can ignite imaginations one minute, then wipe children's tears and guide the growth of teachers in the next. The authors examine true-to-life program scenarios in concrete, intentional ways and provide tips and ideas that are helpful for all directors. As a 45-year veteran director, I recommend this book to any early childhood leader who seeks to thrive at this job.
—Johanna Booth-Miner, Director and Owner, Live & Learn Early Learning Center
A much-needed book for anyone taking on the job of directing an early childhood program. With its comprehensive, detailed discussion of the many facets of this position, this resource will find a special place on all new directors' desks.
—David Elkind, Professor Emeritus of Child Development, Tufts University